Fashion
How to Buy Vintage Clothes on a Budget
11:19 AM
Dollie Simpson
It seems like certain fashions are always coming back. This means that trends that were once popular in the past always make their return eventually. Keeping up with the latest crazes can require of you to constantly get new clothes and refresh your look, so it is certainly hard on your wallet. However, if you are looking to switch up your style and create a more unique look, it might be time to consider adding a few vintage clothing items to your wardrobe. Vintage pieces are often most fashionable and allow you to create a style that will really stand out. So, if you're preparing yourself to shop for some new apparel or accessories, here are a few of the most important tips you should keep in mind when buying vintage clothing on just about any budget:
When you are looking for shops that will have vintage clothing items, it is always best to begin your search with thrift stores. It might not be the easiest task to find exactly what you want, but there should be a huge selection of very affordably priced pieces, which means that you never have to pay full price. Perhaps it will not happen on your every trip to the shop, but after some searching you should be able to find some really fashionable items to add to your collection that are also quite cheap. If you are looking for a great bargain, this is the type of store that you need to be shopping at regularly! However, it also doesn't hurt to check at regular shops for retro inspired fashions – they might just happen to have something that you crave. Although the prices aren't as attractive, they can be brought down just like in the case of Buffalo Exchange or
Kohl's which offers a diverse choice of clothes and good discounts.
Condition
One of the most important things to consider when you are searching for this type of clothes is their condition. You want ones that look vintage in style, but aren't worn out or damaged, which isn't always guaranteed, especially if you are also striving for a good deal. However, you shouldn't give up on
quality
. You will just need to shop around for the hidden gems that are unique looking, but still hold on great. As it happens in most cases, the cheapest products will be in the poorest condition, but if you keep your eye out for a bargain you should be able to find one.
Try Looking at Home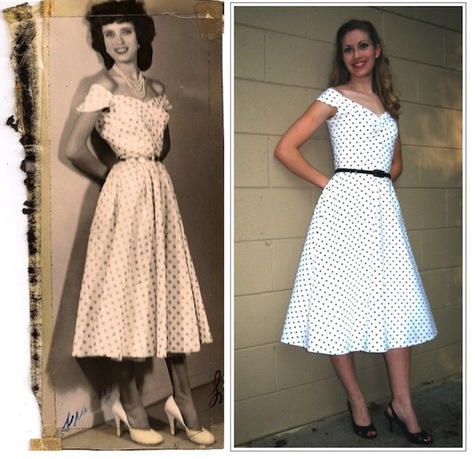 It might take you a lot of time and effort to find the most fashionable items, but you know that it is certainly worth it when you get a great buy. And besides shopping, it might be a good idea to try searching in your closest vicinity. Don't be shy and ask your mom or grandma if you can look through their old clothes that they have kept over the years. You might just be able to refresh your wardrobe with their old items, and what you'll find is more original than any purchase!
Thanks to Sam for this fun post!