Happy Friday y'all! We hope you had a nice week. And since it is the end of the work week, we thought we would end on a high note by leaking a legend!
The first legend listed on the VLV 19 lineup we are going to leak is:
DICK DALE!!!
If you are not familiar with Dick Dale (almost impossible), here is an excerpt from his website bio:
"Dick Dale invented surf music in the 1950's. Not the '60's as is commonly believed. He was given the title "King of the Surf Guitar" by his fellow surfers with whom he surfed with from sun-up to sun-down. He met Leo Fender, the guitar and amplifier guru, and Leo asked Dale to play his new creation, the Fender Stratocaster electric guitar. The minute Dale picked up the guitar, Leo Fender broke into uncontrolled laughter and disbelief, he was watching Dale play a right handed guitar upside down and backwards, Dale was playing a right handed guitar left handed and changing the chords in his head then transposing the chords to his hands to create a sound never heard before. Leo Fender gave the Fender Stratocaster along with a Fender amp to Dale and told him to beat it to death and tell him what he thought of it. Dale took the guitar and started to beat it to death, and he blew up Leo Fender's amp and blew out the speaker. Dale proceeded to blow up forty nine amps and speakers; they would actually catch on fire. Leo would say, 'Dick, why do you have to play so loud?"
"This all led to Dale later being named the "Father of Heavy Metal" from Guitar Player Magazine. Dick Dale broke through the electronic barrier limitations of that era!
He was the first person to create the surf music sound. The first to take a sport and develop a music for it. He was also the first to have more than one record on the Top Ten charts at one time, and also to have five songs from a single album on the charts at once. He was first to sell out the Los Angeles sports arena."
Dale has also recorded original material for Disneyland's Space Mountain roller coaster ride, and the soundtrack for the History of NASA video shown in Space Mountain. Dale's music is being used in all the Disneyland's throughout the world along with being featured in a Disneyland Music album which is being sold by Disneyland.
We are glad that Dick Dale is still around to play too loudly! He suffered from rectal cancer in '08 that kept him from touring for awhile. We have seen him play recently and he is still sounding great! We can't wait to see him again next April at
Viva Las vegas 19
. You can get your tickets here via
Ticketfly.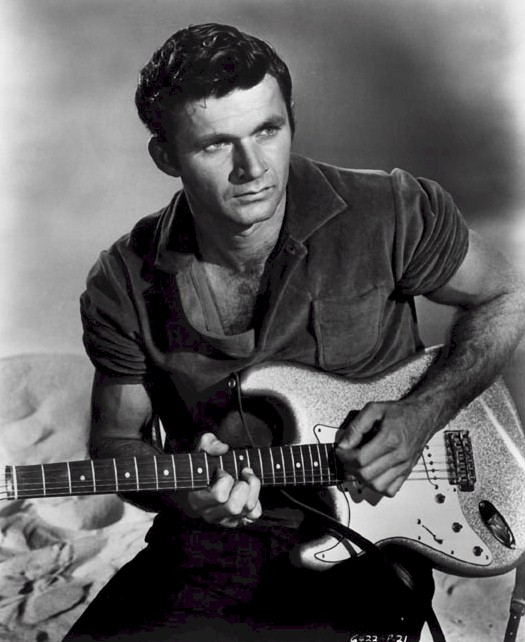 Here he is playing his biggest hit:
Happy Friday everyone, hope you have a great weekend! Be sure to check back Monday for the next leaked band.
XOXO
Dollie and Zack