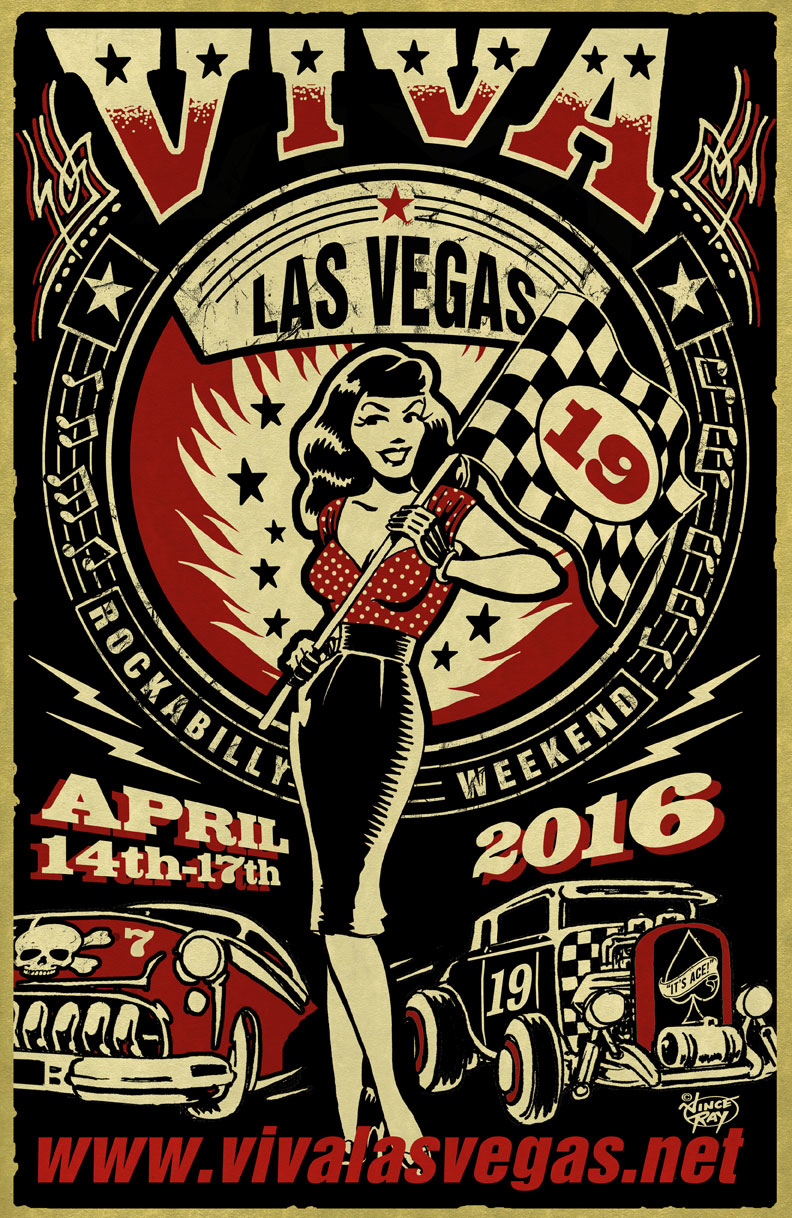 Unfortunately for us The Rockabilly Rockout has been cancelled for this year. So with that news...we're going to start getting excited now for Viva Las Vegas!
In case you hadn't heard, Viva Las Vegas is by far the biggest rockabilly weekender in the world. Four glorious days filled with bands, DJs, a carshow, pool party...and so much more! The weekend passes are on sale right now for $125 and they are selling faster than average, so don't delay in purchasing yours. If you can't stay the whole weekend there are also day passes available for the car show. Be sure to check out the
website
for more buying information. Stay tuned right here for more VLV information as we get closer. Hope to see everyone there!
I still have some great stuff listed in my Etsy store: Rockabilly Socialite Vintage. I recently re-listed everything in my shop with new SALE prices! I am basically giving stuff away because I have too much! I need to get rid of things. so feel free to look around and make an offer on anything you may like!
I would like to welcome
Kinny & Howie Retro Boutique
back as an advertiser. Kinny & Howie is an online boutique that specializes in retro fashions for women. They carry their own made made in USA line as well as others from Steady, Hell Bunny and Sourpuss. They are located in Los Angeles, CA. While looking through their site I picked out a few cute things for the beach this summer. I am going to Cancun later in the year and drooling over this swimsuit! This is really cute together, yes? Their items are very affordable and will fit basically any budget. So if you can't afford to spend $300 on a vintage dress, check out Kinny & Howie!
Welcome back to
Cats Like Us
!
I'm sure you have heard of Cats Like Us before, but if not, Cats Like Us is a retro style clothing boutique selling new fashions with classic styles from the 1940's, 50's and 60's in modern fabrics and contemporary sizes ranging from XS to XXXL. They offer a unique selection of hand selected styles and gifts for men, women and children in modern sizing. They are based out of western New York but have a great online store also! They have lots of great new items right now, including items from Sourpuss, Heart of Haute, Sparklelux and Nicole Katherine Designs. I picked out these items to show you because I thought they were so cute and would be really fun to wear this summer. I love this fish purse and this super cute dress! If you are just getting into retro styles, Cats Like Us is a great place to start. The owners are so nice too, so you can feel good buying from them! They also have a fun blog, including one post where you may recognize someone, so check it out!
Thanks again to all our fabulous advertisers! I am forever grateful to you all!
XOXO
Dollie