I wanted to take a moment to thank all of the advertisers who keep The Rockabilly Socialite going. I have a lot of great things in store this year, and I am glad to have you all along for the ride!
I am so sad that Viva Las Vegas has come and gone. I can honestly say it was the best viva yet. It went off without a hitch! I have some great coverage of the event and will start working on them next week. I will have posts of each day, covering as many bands and events as possible. I also have live video footage I will be editing together. This year I tried to capture more of the VLV fashions, so I may even do a separate post for that. So stay tuned for some great post-Viva Las Vegas coverage!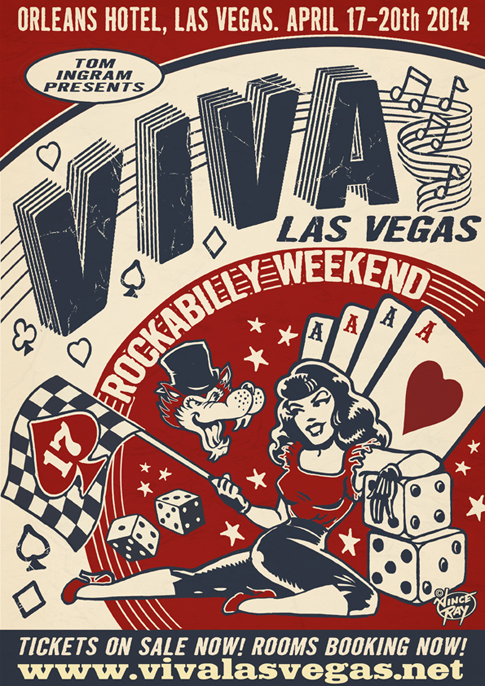 Also, I am sorry to say, but the host hotel, The Orleans, is already sold out for Viva Las Vegas 2015. From what I can tell, it sold out within 24 hours of the booking going live. We booked our room, but if you were not that fortunate, make sure you call now and get on the waiting list. Most people get rooms for the event if they were on the waiting list, especially this early.
Now that Viva is over, it's full steam ahead to the next big weekender in the US- The New England Shake-Up! If you are not familiar with the New England Shake-Up, it's a three day weekender in Sturbridge Massachusetts (right outside of Boston). It is held at a lovely little hotel right on a lake, The Sturbridge Host Hotel. This year marks the second year for the New England Shake-Up. This years line-up for the Shake-Up is the best of any weekender of the year in my opinion, with bands such as The Bellfuries, Big Sandy, Jittery Jack, The Millwinders, The Outta Sites, Roy Rapid, Amber Foxx and more. The Shake-Up is THE "must see" weekender for sure!
I was lucky enough to attend the first Shake-Up, and I will be at this years. It was a great weekender! You can see my recap of events on
Thursday
,
Friday Day,
Friday Night
,
Saturday Day,
Saturday Night
and
Sunday Night
of the Shake-Up. The hotel is already sold out for this year, but you can get on the waiting list. There are also a lot of other hotels around with room open. You can find info on the hotels on the website. Tickets are now on sale on the
website
for the low price of $80. I highly recommend you check out this weekender, it may be just what you are looking for.
Did you check out V-Male's booth while at Viva Las Vegas? You know I did! I stocked up on all of my bras for the year. V-Male is always one of my favorite booths at Viva. V-Male is a Viva Las Vegas staple and a "must see" booth in my opinion. The V-Male booth is the place to go for deadstock vintage lingerie (bras, girdles, corselettes, slips, nightgowns), reproduction lingerie from Rago (bullet bras, waist clinchers, garters), high waist undies, stockings, crinolines, etc. V-Male also has burlesque items like pasties and ruffly butt undies. I buy all of my vintage and vintage reproduction lingerie exclusively from V-Male while at Viva. It's the best time to try stuff on and stock up. They have a huge selection with a wide variety of sizes and colors.
If you didn't make it to Viva this year, don't fret! You can still purchase some great stuff from V-Male via
their
Ebay
store and
Etsy
store.
For more info on V-Male Detroit Vintage check out their
website.
If you are in the Detroit area, stop by the store:
V-Male Detroit Vintage
23902 Van Born Road
Dearborn Heights, MI 48125
and make sure to Like V-Male Detroit Vintage on
Facebook
!
If you didn't do enough shopping at Viva Las Vegas, won money, or came back inspired to shop more, Crash The Party has you covered. The owner Melissa is having a post VLV sale! All remaining items in her Etsy shop are on sale! Check it out and scoop something up before they are all gone. Make sure to favorite her shop as she always lists new things!
You know what shop made a strong showing at Viva Las Vegas? The Oblong Box Shop! I saw so many fabulous girls wearing their pinup tops, printed dresses, sparkly bangles and Comet Clutches! I was so happy as The Oblong Box shop is a long time supporter of The Rockabilly Socialite and a company I can really stand behind. If you are just discovering The Oblong Box Shop, it is a great online webstore that has clothing and accessories for men and women in a lot of different styles. They have everything from clothing to shoes, jewelry, hair flowers, sunglasses, and purses. They even have tees and cuff links for men! They are really a one stop shop! Right now they are also offering free shipping on orders of $75 or more, so hurry up and place that order!
Look at that, I am my own advertiser now! That's right, I finally opened my own Etsy store and decided I should advertise it here. I have a few things in my shop that would be perfect for summer and upcoming weekenders- sequins, lurex and rhinestones! Check it out, you may find something you can't live without.
Rockabilly Socialite Vintage
, for the Socialite in you!
Cici Punch Designs is a jewelry design company out of San Diego, CA. The owner and designer, Cici, makes all of the jewelry herself by hand using the highest quality supplies. She is inspired by vintage jewelry pieces and the natural beauty of Southern California. Her
website
is stocked with pieces to buy now, but she also takes custom orders. It was just announced that she will be doing a monthly jewelry box subscription service where subscribers will get a custom piece made for them based on their unique style. So cool, right? I'll let you know more about it when I experience it first hand.
My favorite collections on her site are the Cholita Bonita collection which is inspired by Dia De Los Muertos and the Cabana Babe collection which is inspired by the beach. Make sure to check out her site and support this small local business run by an awesome lady!
THANK YOU!!!
Thank you again to all of my wonderful advertisers, I love you all! If you would like to see your ad on this site, and your business featured here, check out my
Advertise page
. Prices are very reasonable, starting at just $20. What other marketing can you do for $20 now-a-days? Also, I am running a POST VLV advertising sale for 20% off all ad space with coupon code VLV17. You can add it during checkout and have your ad up in just minutes!
XOXO
Dollie