We are already almost a month into the new year, can you believe it? I want to thank all of my advertisers who stuck with me into this year, and all of the future advertisers, for keeping this website going. Like I have said before, I couldn't do it without you! There are a lot of exciting things coming up this year, and I am happy to have you all along for the ride.
I am so excited to have Viva Las Vegas as an advertiser on this site because it gives me even more reason to talk about it!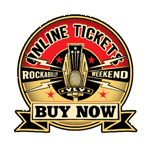 It is officially crunch time. It is only 80 days until we leave for sin city! I recommend you buy your tickets in the next 30 days because they will sell out soon. I think they sold out in February last year, but Viva was a little earlier last year. You can
buy them here
. I will be starting a collection of VLV posts here on The Rockabilly Socialite. Until then, have you considered joining my
VLV Fitness Challenge
? We are doing a structured 12 week fitness challenge that will take us right up to Viva Las Vegas. If you want to look your best for VLV, why not join in the fun? New posts weekly with updated challenges!
I am so glad to have Tammy Lynn and Myles High as advertisers on The Rockabilly Socialite. I love supporting bands here, after all, that is the main purpose of this blog.
Tammy Lyn and Myles reach back in time to the roots of rock, swing, R&B and rockabilly and then add their own spin on it to create a sound that is uniquely their own. If you would like more details about this album and their sound, read the
CD review
I did of Turn My Music On. You can
download their album
on Cdbaby for only $7.99. What a steal! May I suggest downloading the album to put into your playlist for your travels to Las Vegas in April? That's what I did anyway!
The Oblong Box Shop is your one stop shop for Viva Las Vegas prep. This website has everything you need to create a killer look, no matter what style you prefer- vintage, retro, pinup, psychobilly, rock'n'roll, or mod. They have clothing and accessories for women and gentlemen. The Oblong Box Shop even carries some of my favorite brands like Lux De Ville, Besame, and Comet Clutches! Here is a few of my favorite looks the owner has put together. These make perfect day wear outfits for spring!
You can shop all these looks and more on
The Oblong Box Shop
. I love supporting small local businesses with female owners, and I hope you do too!
If you are interested in advertising with The Rockabilly Socialite and seeing your company here next month, visit my
advertise page
. The process is super easy and your ad will appear on the website almost instantly! Rates are affordable and really the best bang you can get for your advertising buck!
XOXO
Dollie