I like to think that living a vintage lifestyle goes further than just wearing vintage clothing and styling our hair and makeup like they did back in the day. Although we may be living this lifestyle just because we like the look and are devoted to living as close as possible to how they did in the 50s, it also has some other perks we normally don't think about, or consider a benefit of a vintage lifestyle. I have been putting more and more thought into this and wanted to share it with you. Whether we planned it this way or not, a vintage lifestyle is much better for our health than we may know. I just wanted to take a break from talking about all of the trivial stuff involved with the vintage lifestyle, and talk about some things that actually mater, like the health of ourselves, our family, and our environment. In some ways, vintage living is green living. I try really hard to live a simplistic, minimalist, healthy lifestyle, and I feel that can go hand in hand with living a vintage lifestyle. All of my readers are living varying degrees of vintage lifestyles, so I will just use myself as an example here, and you may or may not relate.
No disposable water bottles: In the 50s, they didn't drink their water out of plastic bottles. They didn't drink anything out of plastic bottles. They didn't drink any type of fancy bottled water period. They drank tap, and they were just fine. If they drank anything out of a bottle, it was a glass bottle. I try and incorporate these thoughts into my life as well.
The more I read about the horrors of plastic water bottles, the happier I am that I never bought them for my home. Tons of chemical go into the making of those thin plastic disposable water bottles, and by drinking the water inside, you are ingesting all of those nasty little chemicals! They try and market bottled water like it is so much more pure and healthy for you, but in reality they are worse for you. Bottled water is not regulated by the FDA if it is bottled and sold in state, so most the time you are better off drinking home filtered tap water because the tap water is strictly tested and regulated. Most bottled water is just filtered from a public water source, and if it is from a natural source, sometimes it is sourced without concern to the surrounding ecosystem. By drinking tap water that you filter at home, you are ingesting less chemicals from plastic, saving a plastic water bottle from ending up in a landfill, and saving a lot of money in the process! Better for the health of your family and the environment!
No plastic dishes: The same concerns go for plastic dishes and storage containers. If the plastic is not recyclable, then you can't find the little triangle logo on the bottom indicating what type of plastic was used to make it. Without this info, you have no idea if there is BPA, PET, or PETE in it. Every time you put plastic dishes in the microwave and dishwater, they release chemicals from the plastic into your food. So you have to be very cautious about how you store and serve food to your family using these dishes. Ideally, you just wouldn't use plastic dishes. Because of my vintage lifestyle, I have no plastic dishes. I serve all food on ceramic dishes. I have a set of vintage atomic dishes, a set of occupied Japan fine China, and a modern set for everyday use. They work just at well as those cheap plastic dishes that my parents served me on in the 80s and 90s.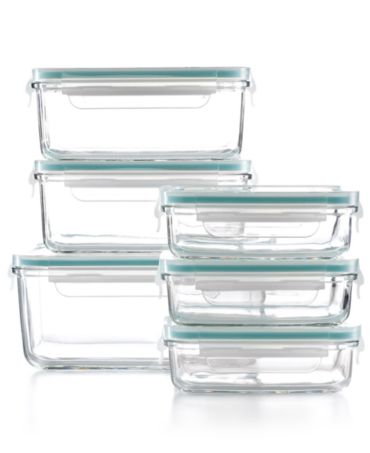 Glass refrigerator containers: Another unforeseen health perk of the vintage lifestyle is Pyrex. Yes, Pyrex! Who knew that putting all of your leftovers into those cute little glass containers would save you and your family a lifetime of chemical exposure? That's right, because you are using vintage glass refrigerator containers instead of those cheap disposable plastic Glad containers you are ingesting less chemicals.
No Dishwasher/Microwave: A lot of vintage homes (mine included) don't have a dishwasher. Our home was made in 1954, and there is just no room for a dishwasher in the kitchen. Even up into the 80s, most homes didn't have a dishwasher, and now some homes are being built with two! Overkill in my opinion, but I guess that is just the way of our modern society! Like I mentioned above, if you are eating off of plastic dishes, then microwaving on them, and throwing them in the dishwasher after, you are causing them to release tons of chemicals into your food that you ingest. Now, that is not tasty! We wash all of our dishes by hand using all natural dish soap instead of those other soaps that pollute the water. Some vintage lifestyle enthusiasts even opt out of having a microwave for health reasons. I am not quite there yet, but I am trying to use it less and less. For now I at least try not to put any plastic containers into the microwave. Can't live without your TV dinners? Just take them out of the tray and put them on a ceramic plate and cover it. It always works fine for me!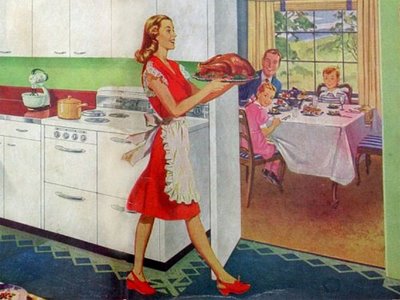 More home cooked meals: In the 50s, women put more time and effort into making healthy home cooked meals for their family. In modern times, wives often balance full time jobs with parenting and homemaking, not out of choice, but out of financial necessity. This leaves less time for fancy home cooked meals for us modern gals. So instead, modern families are eating more and more takeout and prepackaged, highly processed, over salted and over sugared foods. Some people say this is why the obesity rate is higher than ever, especially in children. I like to think that we vintage lifestyle enthusiast wives try to make home cooked meals more of a priority than our non-vintage counterparts. I know it is not always easy, but the health of our family is worth the extra work, no? If the 50's taught us gals anything, it was the glory of the one dish casserole! So, at least once a week, whip out a casserole with lean protein, veggies, and complex carbohydrates in your vintage Pyrex. You will enjoy the leftovers too!
Less electronic appliances: Now-a-days, there is a fancy electronic appliance for everything. No need to chop, juice, crush, sweep, mop…a machine will do it for you! While non-vintage people I know have things like a Rumba to mop for them, most vintage lifestyle people do not. I mop the old fashioned way, by hand! That's the same way I chop my vegetables too…all by hand! While things like a food processor are handy, they are just one more thing to sap electricity and raise our bills. The same with heated hair styling contraptions like blow-dryers and curling irons. I air dry my hair and wet set it to curl it. It is better for your hair and your wallet! Because we live pretty minimally with electronic appliances, our electricity bill is sooooo low! It's great to be green!
Staying trim and looking our best: In the 50's, looks were more important to women then ever before or after in my opinion. How could women not try hard to look their best with women like Marilyn, Jacquelyn and Betty running around? We still look at them as some of the most beautiful women in the world. During that time women made sure to stay trim for their husbands. They set their hair nightly, wore makeup everyday, and never wore jeans to town. Could this be why the divorce rate was lower? We will never know, but I figure it can't hurt to try and look our best for our husbands. If anything, it will at least make you feel more beautiful and confident, which will positively touch all other aspects of your life. As I mentioned before, this is harder then ever before with all of the things we have to juggle in our modern lives, but worth the effort.
Vintage Furniture/ Clothing: All of the furniture (with the exception of my modern queen size bed) is vintage, and therefore used. By buying used we are saving this furniture from ending up in a landfill somewhere, and because we are repurposing something already made, we save resources. The same goes for vintage clothing. Who knew that having a closet full of vintage clothing could be so good for the environment? Like I said, vintage living is green living!
While living a vintage lifestyle maybe a little more work (like scraping the ice from my 1954 freezer weekly) it is ultimately enjoyable to most vintage lifestyle enthusiasts. At the end of the day, at least we know the lifestyle we are living is good for ourselves, our family, and our environment even if we didn't initially plan it that way. Now that I got you thinking about it, what aspects of your vintage lifestyle unexpectedly turned out to be good for your health?
XOXO
Dollie
Ps. Please don't take my word for anything written here, as it is my personal opinion. Please conduct your own research regarding your health.