Dear Miss Dollie DeVille,

Hi,


I'm not sure if you seen my blog my name is Josie I run For The Vintage Fashionista . I was wondering if you knew any good vintage stores here in California. I usually shop in Pomona because it's close and Redlands , the rest of my clothes I get from what I find when I go with my mom to estate sales. But now I'm looking for more place to shop because I need new clothes for school and I only live near a few vintage stores. I admire the vintage clothes you wear very much so I was hoping you knew some good places to shop.


Thanks for taking the time to read this message,

- Josie


Hi Josie!


I do follow your blog, and I love it! I wish I was as put together at your age as you are! Just as a reference, here is a picture of me when I was about your age:



My Sisters Liz and Nanci, and I.
What is up with that curl? I thought I was tough like crybaby or something!
Anyway, back to the topic. Where I shop locally. I have featured a few of my favorite haunts, including:
RETRO ROW!!!
"Retro Row" is a section of 4th street in Long Beach that has some fantastic vintage clothing shops and midcentury modern furniture shops. Its a small section of stores but it packs a lot of punch for a small area. These stores are jam packed with "the goods" as I like to call them, but you will have to pay for it. People here know what this stuff is worth, and sometimes think it is worth more than it is. But, I know you are a high schooler on a tight budget, and I have you covered! While you may not be able to afford much from these vintage shops I mention, there are also a ton of "charity shops". These will take you a little longer to look through to find what you want, but I imagine you are up for the challenge! The hunt is half the fun, right?
Sneaky Tiki, my fav store EVER!!!!
See that yellow and red atomic print shirt in the window?
Zack bought that on another shopping trip. Remember: if it is in the window it is $$$!!!!
Plan to spend all of your "f-oldin' money" when you come here.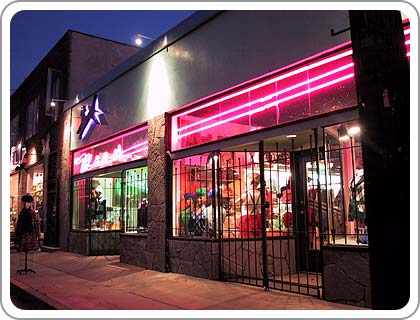 Meow! Some steals to be had if you take the time to look.
Also, some hard to find pieces! This is where I got my gold lame pants.
I am sure you can find something good in that pile!
AIDS Assistance Thrift Store
This is my favorite of all of the charity shops. Within 5 mins I found 2 pairs of vintage shorts, one deadstock, for about $8! Can't beat that! My friend also found a beautiful 30s/40s silk floral print dress.
Here are some more posts about 4th street:
and their website:
Melrose, Hollywood Blvd, LA BABY!
It may sound too posh to say you are shopping on Melrose, but there are some great vintage stores there! It would make a fun outing for you and your mom, even if you don't find exactly what you are looking for. These LA shops seem to cater to more of a hip 70s and 80s vintage crowd then the shops on 4th Street in Long Beach. But if you wear a big floppy hat, big sun glasses, and enjoy lunch on a nice patio somewhere it is worth the trip just for the "celebrity experience"!
American Vintage on Melrose.
They have tons of Mexican circle skirts!
Iguana Vintage Clothing on Hollywood Blvd is a must see!
There are 3 floors, thats right, 3 floors of vintage here! Everything from 20s-80s.
There are shoes, wigs, and accessories too! The prices are fair, and depend on condition, but they won't haggle if you think the price is too high.
Jet Rag on La Brea
Now, at first glance the stuff here is kinda...well.....80s. But I smart fashionable girl like you could make it work. You just have to spend more time looking. This place really shines in the jeans dept.
Buffalo Exchange on La Brea
Sometimes I will find a gem at a store like this, but sometimes I walk out empty handed.
Its always worth checking out though!
So, this is the very, very, very short list. I actually only featured a few shops in two different locations. If you want to do some major shopping, pick a place that has a lot of shops within walking distance and just make a day out of it. There are some great shops in other areas, but if you tried to hit them all in one day you would spend most of your day in the car and most of your money on gas. So, pick a place like 4th street in Long Beach, or Melrose in LA and search Yelp for some cool looking shops, print out the addresses and details before you go.....and your ready to shop 'til you drop!
Good luck and let me know how it goes!
XOXO
Dollie