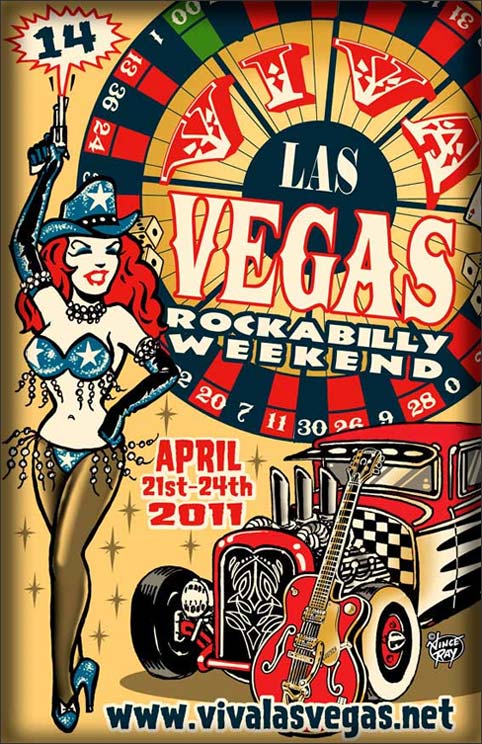 The countdown to Viva Las Vegas is over-I am leaving in just a few hours. My bags are packed, the booze is on ice, and the gas tank is full.....it's party time! I hoped to do a post about last weekends festivities, but I never got around to it. I also never got around to posting about the pre- and post-VLV events going on....I know, I know, I am a terrible socialite! I have just been partying way to hard to fit in computer time. So, before I leave for VLV I wanted to leave you with one last little gem: How to make friends at VLV. Enjoy!
The best part of Viva Las Vegas is being around like-minded people who share similar interests. It is the one place I feel normal, and not like a freak. So, obviously it is a good place to meet new people! You can make lasting relationships because you will most likely see these same people year after year, and with modern technology, you can keep in touch via email and facebook. So, here are a few tips to help you make some new friends!
Socialite Tip #1: Start up a conversation in every line you are in. You will find yourself in a lot of lines during the trip-bathroom, buffet, bar, the list goes on and on. If you strike up a conversation with one person in every line, you will leave with a ton of new friends! This also makes the lines go a lot faster!
Socialite Tip#2: Compliment people. A genuine compliment is always appreciated. If you like someone's hair, dress, or shoes…tell them! I am sure they would like to hear it. You never know, maybe that is a person's first time wearing that certain style and maybe they feel unsure about it all, but one compliment may make all the difference in making them feel comfortable.
Socialite Tip#3: Ask someone to dance. I meet a lot of new people on the dance floor, and not just boys either. You can meet girls while bopping and strolling too! Maybe someone wants to dance but doesn't want to dance alone. So, offer to be a partner. If they don't know how to dance, offer to show them a few moves. This will go a long way!
Socialite Tip #4: Buy someone a drink. Again, this is not just for boy/girl combos. Last year at VLV a girl next to me bought me a drink, and we sat and had a nice conversation! See, new friend.
Socialite tip #5: Have a card with your contact info. This is the most important part! How will you stay in touch with all of your new friends? If you are drinking, you are likely to forget their name by the end of the night (but try not too!). If you have a card with an email or facebook then you will be able to save them all for when you get home. Then write them and tell them how nice it was to meet them! I have only had a facebook for about 5-6 months, so this will be the first VLV that I can tell people to add me on facebook, so I added that to my new business cards that I am bringing to Viva.
I hope these tips will come in handy during your trip. Do you have any of your own tips for us?
Remember, if you see me in line around the hotel, or on the dance floor, say hi!